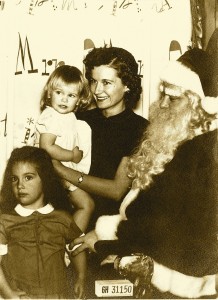 Janis Arnold: this is a picture of me, one of my sisters, and my mother . . . I'm the one that Santa had to hang on to to keep me from bolting . . .   A brief bio . . .  I was born in Houston, Texas and grew up on a ranch forty miles outside of Houston near a town of 3,000 people. Our family had a television set, but our ranch was located too far outside of Houston for that television set to pick up any channels, so it was fortunate that, as a child, I enjoyed reading.
I was also lucky that my mother regularly joined new Book of the Month Clubs to get the free tote bags. I began to write books when I was in fourth grade after I had waded through all of the books in our very small school's library.
My cousin, who was skillful with scotch tape and a stapler, wasn't a writer, but she did like to sketch and draw, so we combined forces and for years our books were written, edited, illustrated, and published on a weekly basis. That same cousin now believes she was the inspiration for Claire Louise and has, to no avail, consulted several lawyers seeking to sue me for misrepresenting her! She's wrong, of course. CL and MR (as are all my characters) are composites of the good and not-so-good qualities of some very interesting people I've met as I've journeyed through life. I attended Katy High School, I gained access to a much larger library and gave up writing and publishing my own books. At that time I also developed a significant interest in cheerleading, social activities, and the opposite sex; to be honest, I don't believe that I ever read another book just because I wanted to until after I graduated from college with the degree in English that landed me my first minimum wage job as a bank teller. So much for a college education instilling a love of reading and writing into an English major! I now realize that what really turned me off about most of my professors was the manner in which, in order to make themselves feel intelligent and superior, they insisted on demeaning and talking down to their students . . .
By the time my first book was published (Daughters of Memory, 1991), I had taught different subjects in a variety of illogical schools and states, lived in a foreign country, returned to the states where I gave up smoking and drinking, earned a master's degree, was married with one son, and was in the process of moving to San Antonio, Texas where I would eventually begin to work as an educational diagnostician. My second book (Excuse Me For Asking, 1994) was set in an anonymous small Texas town and relied heavily upon stories about things that I'd never had the nerve to do and/or words that I'd thought about, but had never actually uttered.
One of the questions that I've been repeatedly asked by readers is: "Are you ever going to write more about Claire Louise and Macy Rose? Or about Julia and Robin?" Nope! Each book is a standalone novel . . . But I've learned that Grandma was right when she counseled, never say never. I've just completed a sequel to Daughters of Memory (Shade Island) and am working on the next book in the series (McKenzie Park). In these books, Macy Rose is alive and is getting herself and her friend Nina into serious danger. Claire Louise, who dies in Shade Island, appears in both books as a very active and opinionated earthbound ghost. Macy's beloved grandmother is also a ghost, but not nearly as interactive a one as Claire Louise! In Shade Island, Macy Rose is almost shot while trying uncover the identity of her sister's killer before she herself is arrested for the crime. In McKenzie Park, Macy Rose (who has greatly benefited from my years of experience in evaluating children suspected to possess serious educational, emotional, and/or sociological disabilities), again comes close to death when she tries to rescue a little boy that she is in the processing of evaluating for the local school district. And In Cypress Springs, the third book planned for the Macy Porter series, Julia and Robin of Excuse Me for Asking fame reappear!
Algonquin Books of Chapel Hill published Daughters of Memory in 1991 and reissued D of M as a Front Porch Paperback in 1993. It was reviewed in over one hundred publications, and continues to be available today. Although I believed that I was through writing about the characters living on the Richards Ranch, that has turned out to be not the case. In recent years, I've traveled back into the past, to a place that I had vowed never to revisit. In all honesty, the trip hasn't been an unmitigated pleasure, but I've learned some amazing things along the way. I now believe that coming of age isn't a one-time adventure for writers or their characters. One of my big life lessons has been that there will be consequences to all of my actions. Some of the consequences of what a person says, or does, or, in my case, writes, won't become apparent for many years. Ultimately though, as the saying goes, 'our chickens do come home to roost'. It turns out that both Macy Rose and Claire Louise had, and have, more lessons to learn and both have complicated and convoluted stories to tell.
Reviews of Daughters of Memory
Daughters of Memory is a memorable and haunting book about female feuding and bonding between two sisters. You won't want to put it down as the plot probes beyond sisterly jealousy into intimate family relationships . . . Sally Falk, Indianapolis Star
There are no villains here, and no victims: just an assortment of strong human beings trying to keep sane in the face of monstrosity. I don't want to know how Janis Arnold knows what she knows, but she has shown genius in the way she has fabricated this novel . . . Carolyn See, Los Angeles Times
Daughters of Memory is an amazing exploration of family dynamics and the sometimes indistinguishable line between pain and anger . . . Leigh White, Macon Magazine Jan/Feb 1994
Booklist: an amazing achievement . . .
Asheville Citizen-Times: a masterpiece of insight . . .