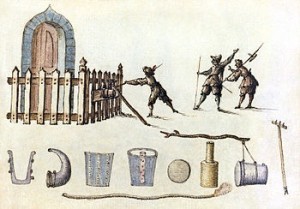 Over the years, I've observed multiple examples of the effects of unintended consequences imposed upon those of us (myself frequently included) striving to improve upon nature for the common good. Some of the unintended consequences that I've experienced have caused this thought to run through my head: Well if I'm not hoist with my own petard, then I don't know who is. Until recently, I confess that I had no idea of what a petard even was, although I speculated that it had something to do with a person either being publicly skewered (current times) or crucified (Roman times).
Shakespeare first used the phrase hoist with one's own petard in Hamlet, and thus the Bard is credited with the popularization of a a pithy expression that continues in use to this day. On some fronts it has been speculated that William Shakespeare deliberately misspelled the word petard, substituting petar, which means to flatulate, as an off-color pun. I rarely read the Bard these days, I must confess, as my undergraduate English degree totally put me off reading literature as it is taught on college campuses. These days I'm more of a Criminal Minds fan, and I'm no longer vaguely ashamed of once having owned every Nancy Drew book the Carolyn Keene team of writers ever cranked out!
Recently I came across an article about Marie Curie, who was credited with establishing the theory of radioactivity. The story of Marie Curie's life gave me pause . . .
Marie Curie, the first person to win two Nobel Prizes, died on July 4, 1934 of aplastic anemia caused by radiation exposure. She is responsible for establishing the theory of radioactivity; unfortunately, Marie Curie also learned the hard way of the fatal effect that radioactive substances can have upon an individual's health. It is reported that, even as she neared death, she was unwilling to acknowledge the dangers of radiation exposure.
Most of us can be stubborn, and likely there are times when the most open-minded among us resist knowledge of the unintended consequences of our actions.  Today, many of Marie Curie's books and papers are available for scholars to study, but even her cookbook is 'too hot to handle'. Those who wish to read from Marie Curie's documents must remove them from the lead-lined boxes in which they are housed; then, they are required to wear protective clothing while in proximity to the documents. Truthfully, while I might like to know which recipes she favored, I can't imagine that I'd find even her cookbooks interesting enough to risk exposure to the radioactivity they continue to emit.
So who was it, do you think, who got a Nobel Prize for discovering the Law of Unintended Consequences? Next time . . .